Things have been really busy in the AtV kitchen. It's exciting! As the holidays are fast approaching my thoughts of course go to comfort food. Oh wait, my thoughts are always on comfort food. It's true, when I'm not munching on leafy greens and gulping down smoothies (I swear I have a well balanced diet!) I'm in my kitchen trying to think of a way to convert a favorite childhood comfort food into a raw/vegan dish. My biggest goal in creating the food I eat is to make it approachable enough so that someone who isn't raw/vegan wouldn't say:
"Ewww! What the hoot is that?"
but instead say: "
Sure I'll try it.......hey, this isn't so bad for weird food...what else do ya got?"

This leads me to my most recent kitchen success story...and something I'll be including in my Thanksgiving dinner this year.
Creamy "Mashed" Parsnip-tatoes

3 Small Parsnips (about 3/4 cup - peeled and chopped)
2 Medium Zucchini (peeled and chopped)
Soak Parsnips & Zucchini in warm water for about a half an hour, drain, pat dry with a paper towel or cloth
1 tsp Apple Cider Vinegar (optional)
Cracked Pepper


Sea Salt to taste - I used about 1 tsp because the Parsnips tend to make this dish farily sweet on their own
Combine all of the above into a food processor (or blender) and blend.
Scrape down the sides of procesor and blend again for about 3 minutes. Repeat this 3 to 4 times until mixture begins to thicken into almost a whipped consistency. Makes enough for three modest, or two generous portions.
*

You can also try adding dried chives and dill to this dish for more of a flavor dimension
*Warming methods:
1. Thinly spread mixture on a shallow dish or plate that would fit in your dehydrator - heat for 1 hour.
2. Prepare two saucepans: one small sauce pan for the Parsnip-tatoes, and one medium sized sauce pan filled half way with water. Heat saucepan/water until begins to boil - then turn off the stove. Place small saucepan (containing the Parsnip-tatoes) inside the medium sauce pan and stirrrrrrr. Stirr for about five minutes until mixture is evenly warmed/heated.
Side note: If you've never had a Parsnip then you're totally missing out! I liken the flavor to a cross between a carrot and a potato. Slightly sweet, very starchy, with a very subtle "bite" at the end. In my opinion they provide a really great substitute for any one who is a potato lover like me.

Coming soon...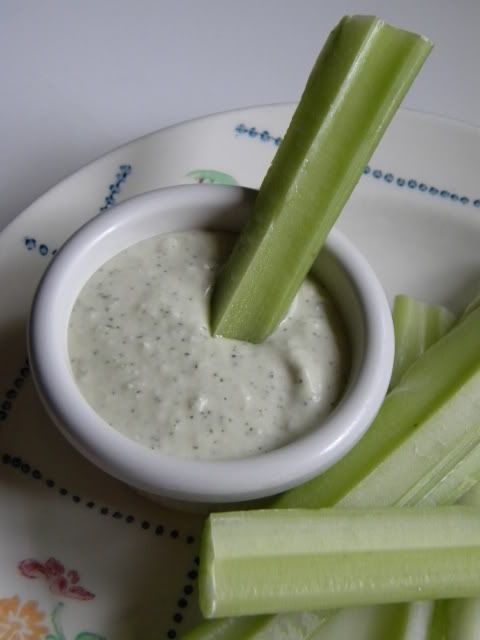 "Raw-Ranch" (this beats Hidden Valley and Kraft's tuckus!)