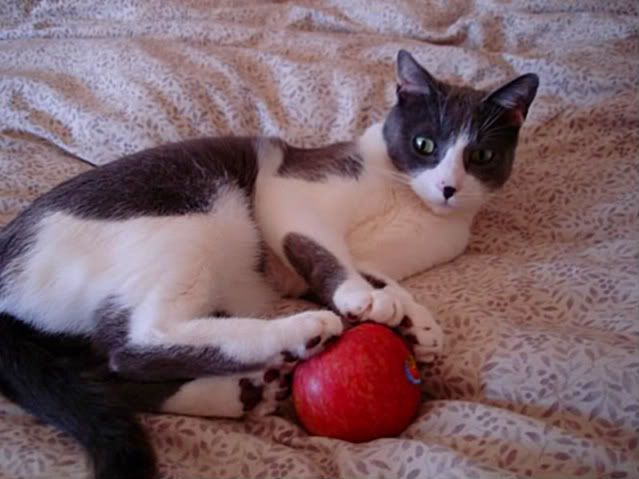 Who can deny the cute cuddly face of a kitty?

Addicted to veggies certainly can't, so we're happy to show off a new "Animal Veggie Addict":

Oscar the kitty.

Oscar is a rescue kitty who hails from Oakland California.
A very happy, healthy, and adventurous kitty, his favorite treats range from corn husks and carrot greens, to basil stalks (personal favorite).
Oscar cares very much for his rescue family, and is very attentive when his family needs extra love or snuggles. He is quick with affection, often times called the "First Responder" when a family member has noticeably had a bad day. This wonderful kitty boasts the perfect components for a healthy, happy, cuddly, ball of love.
Oscar wants everyone to know how important it is to visit your local animal shelter. He and his owner are very big fans of
Animal Place,
a nonprofit sanctuary for abused and discarded farmed animals, located in
Vacaville, California
.
Addicted to Veggies is so honored to have Oscar join our Animal Campaign, and we hope to boast pictures of his future adorable adventures!
If you have a furry, feathered, scaly, or "other" animal friend that would like to be a part of the
Addicted to Veggies campaign
please email us your photos. Try to include a fruit or vegetable in the picture, as well as a little bit of information along with the photo, i.e.; animal's name, favorite fruit or veggie, and a fun fact, tid-bit, or story.
We look forward to featuring a new animal every week in our upcoming special
"Animal Veggie Addicts"
section.