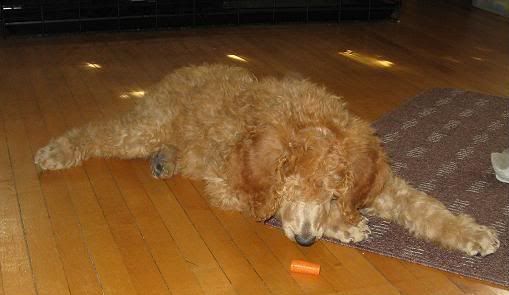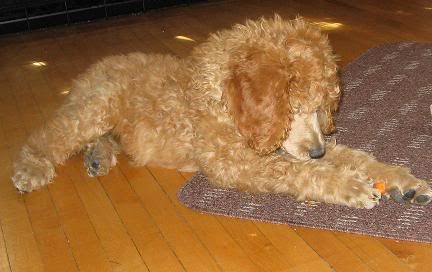 Clifford's first vegetable experience - the carrot
Once again, Addicted to Veggies is honored to feature such an adorable picture, which features an even more adorable pooch: Clifford the dog

.

Clifford is an Apricot Standard Poodle, he hails from Saskatchewan Canada, and belongs to a veggie enthusiast
and extremely impressive athlete named Crystal. To read more about Crystal's inspiring athletic feats visit her over at
www.vegantriathlete.com
. Clifford has grown quite a bit since this picture was taken (he was just a curious pup then), but his curiosity for veggies, and love for carrots has remained. We hope to see more photos of his veggie adventures in the near future!
Addicted to Veggies is excited to have Clifford the dog as the newest furry member of our campaign.

If you have a furry, feathered, scaly, or "other" animal friend that would like to be a part of the
Addicted to Veggies campaign
please email us your photos. Try to include a fruit or vegetable in the picture, as well as a little bit of information along with the photo, i.e.; animal's name, favorite fruit or veggie, and a fun fact, tid-bit, or story.
We look forward to featuring a new animal every week in our upcoming special "Animal Veggie Addicts" section.