I have never considered myself to be anywhere close to a "baker", and have never been successful in the kitchen when it comes to baking sweets. Even boxed cakes have turned out horrible when in my hands.
But in spite of my fears I took on the idea of a raw Carrot Cake, and pulled out all the stops.
The results? Well, just wow...
This may look big, but it's actually only about a six inch cake. Perfect size because it's very decadent and rich.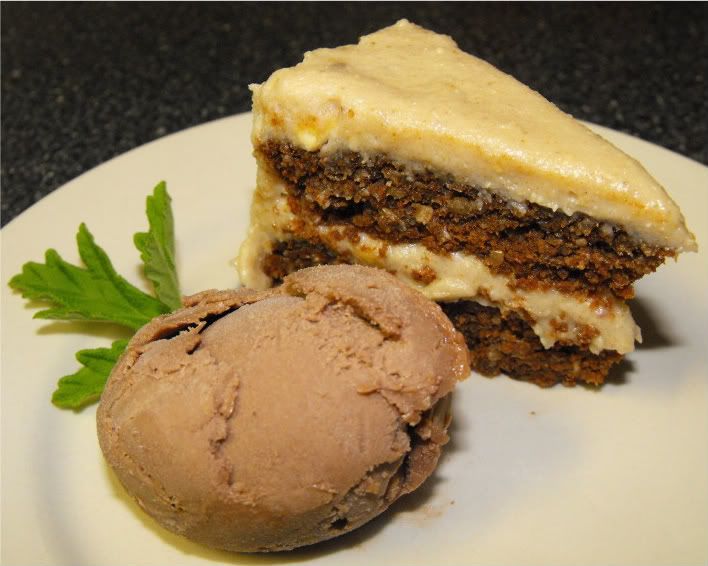 Raw Carrot Cake with Vanilla/Coconut Frosting
Step 1.
4 C shredded Carrot - chop/mince your shredded Carrot (you can do this by hand or in a food processor)
1 C finely ground Sunflower Seeds //or// 1 C Coconut Flour
Place your Minced Carrot and Ground Nuts aside in a large mixing bowl and move on to the next step.
Step 2.
In a food proccessor place:
5 Medjool dates - soaked in warm water for 10 minutes to soften, pitts removed.
1 C dried shredded Coconut
1/4 C Coconut Crystals (also known as Coconut Palm Sugar)
2 tsp All Spice
1 tsp Nutmeg
2 to 3 tsp Cinnamon
Dash of salt
- Blend/Chop all of the above ingredients very well in the food proccessor.
- Empty contents of food proccessor into the mixing bowl with the Carrot and ground Sunflower Seeds, folding everything together until evenly mixed.
- Divide cake batter in half and form into equal sized patties, roughly one inch in thickness.
- Place cakes into dehydrator for 5 hours, turn them over and dehydrate for another 5 hours.
- Place the cakes in the fridge over night to chill --- while they are chilling they will firm up perfectly.

-
Vanilla-Coconut Frosting
2 C raw cashews
5 Medjool dates (pitted)
4 Tbsp Coconut Butter - melted
2 tsp Lemon juice
1/4 Coconut Nectar
3 tsp Vanilla
Dash of salt
3/4 C water
Blend well in food proccessor (for roughly 3 to 5 minutes) until mixture is thick and creamy!