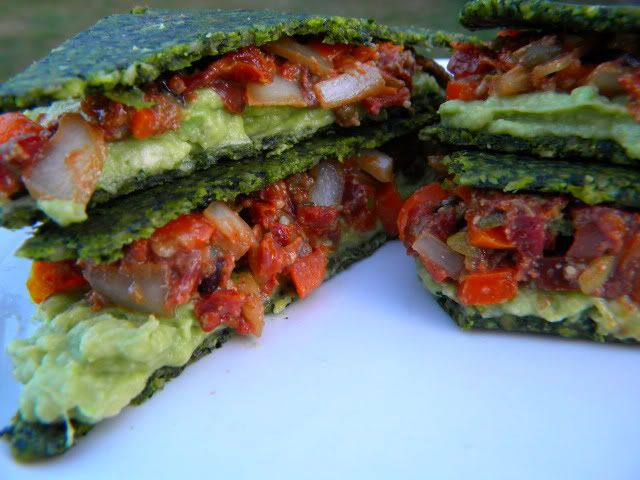 Kale Monsterella Flatbread
Food you will NEED to prep before hand:
Sunflower Seeds - in a coffee grinder, grind up 3/4 cup
Step 1 (into food processor):
2 C Kale (packed)
2 Circles of EVOO
1/2 C Goldend Flaxseed meal
--- Pulse above ingedients in foor processor, until Kale brakes down to a smaller amount. Set aside in a mixing bowl.
Step 2 (into food processor):
1 C Pumpkin seeds
3-4 tsp Onion Powder
3/4 C Ground Sunflower Seeds
1/2 C Nut.yeast (optional - but makes a big difference)
Sea Salt to taste
--- Process well. Combine ingedients in mixing bowl, mix well with your hands!
Spread evenly on dehydrator sheets, quarter of an inch in thickness, and dehydrate for roughly 5-6 hours, checking periodically to make sure that the bread is still moist and flexible - you don't want crakers!
On the Sangwich in ABOVE picture:
Mashed Avocado seasoned w/ S&P
Chopped: White Onion, Orange bell pepper, Sundried Tomato, Raw Black Olive
Mixed with:
Apple Cidar Vin., Extra Virgin Olive Oil, Pureed Medjool Date Sweetener, S&P