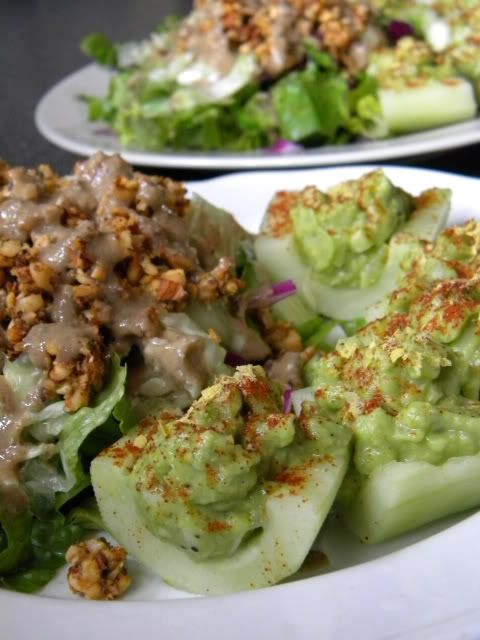 Deviled Cucumbers
This recipe makes what I think is good enough for one - so you'd better double (or triple) it if you're planning on sharing

Step 1:
1 Avocado mashed really well
3 Tbsp White Onion - very finely chopped
1 tsp - maybe a bit more Apple Cider Vinegar (I go heavy on the vinegar because I love it)
2-3 Pureed Medjool Dates (or liquid sweetener of your choice)
1/2 to 1 Tsp Mustard
Sea Salt to Taste - maybe a couple good dashes.
Mix Really well - taste it just to tease yourself. I could've easily just eaten the Avocado mixture alone --- it was SO good.
Step 2:
One Large Cucumber.
Peel your Large Cucumber
Slice Cucumber in half lengthwise, remove the Cucumber seeds with a spoon or mellon baller.
Set the Seeds aside for a salad --- don't throw them away, they're still perfectly yummy!
Cut the Cucumber boats into One inch sections.
Spoon the Avocado Mixture onto the Cucumber rounds, and top with Paprika and a touch of Nutritional Yeast.
xoxo,