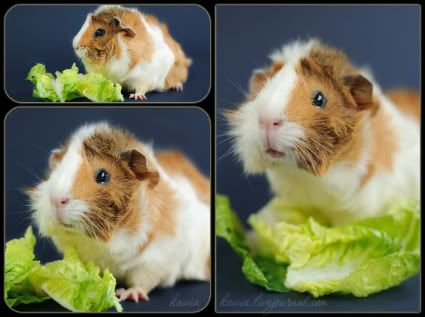 Addicted to Veggies is so honored to feature such a beautiful photograph, from an individual who's talents we admire greatly.
Kawia
hails from Saxony Germany, and is an avid photographer who showcases her beautiful images on her
livejournal
, which she is always updating with new and exciting visual treats.
Featured in this lovely photograph is
Kaiwia's
own Guinea Pig, Horse. Horse is a very personable and curious Guinea Pig. 100% vegetarian, she enjoys munching on raw fruits and veggies, fresh greens and seeds (including hay), and loves Romaine Lettuce for a snack. A very kind, obedient, and gentle pet, Horse will often utter intelligent sounds such as soft rumbles when she's pleased and high pitched squeaks when she is afraid. It's obvious in this picture that she is very loved and well taken care of, a good representation of the happy healthy animal community we love to see.
Addicted to Veggies is very excited to have Horse as the newest member of our campaign!

If you have a furry, feathered, scaly, or "other" animal friend that would like to be a part of the
Addicted to Veggies campaign
please email us your photos. Try to include a fruit of vegetable in the picture, as well as a little bit of information along with the photo, i.e.; animal's name, favorite fruit or veggie, and a fun fact, tid-bit, or story.
We look forward to featuring a new animal every week in our upcoming special "Animal Veggie Addicts" section.